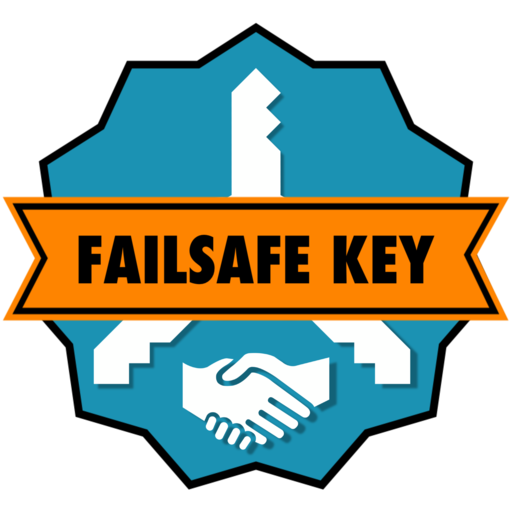 FailSafeKey Privacy Policy
Return to FailSafeKey Home
At FailSafeKey, we are concerned about the privacy of our users. We work hard to ensure that our services comply with all regulations applicable to protect your privacy. The very little data that we collect is for the purposes of helping users manage the resources available on our network of sites.
The present document applies to the processing activity carried out by FailSafeKey and FailSafeKey, Inc. ("FailSafeKey," "we" or "us") on your Personal Data when you use any FailSafeKey service, including all associated software, and websites (collectively, the "Services").
The purpose of the present document is to describe the conditions under which your Personal Data is collected and processed by us.
BY ACCESSING OR USING THE SERVICES, YOU ACKNOWLEDGE THAT YOU HAVE READ, UNDERSTAND, AND AGREE TO BE BOUND BY THIS PRIVACY POLICY INCLUDING OUR COOKIES POLICY.
IF YOU DO NOT AGREE TO THESE TERMS, PLEASE DO NOT USE THE SERVICES.
The Data collected by FailSafeKey Services
By using our Services, you may transmit data to us, some of which are possible (though unlikely) to identify you ("Personal Data"). Please find below a list of the data we are processing.
| | | |
| --- | --- | --- |
| User Action | Type of Data | Reason for Collection |
| Register as a user | Username, First name, Last Name, e-mail address, avatar, IP address | The information is necessary for the proper performance of the service. |
| Engage with other users' content (search, like, comment, curate, view, follow) | Search queries, likes, commenting, curation, viewing, and following activities | The information is necessary for the proper performance of the service. |
| Publish content | IP Address, Email | The information is necessary for the proper performance of the service. |
| Contact Support | First name, last name, e-mail address, username | The information is necessary for the proper performance of the service. |
Apart from the limited personal data described above, we do not collect and do not wish to receive any personally identifying data.
Each time you visit our website, we may also automatically collect information and Personal Data about your computer for system administration including, where available, your IP address, your operating system and browser type and navigation data. This helps us keep the tools working for our users as technology changes.
Privacy Settings / Opt Out
If you wish to modify any of your user profile information, withdraw your consent for the processing of your personal data, or cancel your account, you may update the settings in your user profile or contact us at admin@FailSafeKey.com.
Children Privacy Rules
We are particularly committed to protecting the privacy of children who access or use our online services.
We do not knowingly collect or retain personally identifiable information about persons under 13 years of age.
We strongly recommend that parents regularly monitor and supervise their children's online activities.
If you have reason to believe that a child under the age of 13 has provided personal data to us, please contact us at admini@FailSafeKey.com and we will make every effort to answer your queries or to delete that information from our databases.
Exercising Your Rights in Relation to Your Personal Data
You have the right to ask us to erase or delete your Personal Data where there is no reason for us to continue to process your Personal Data. This right would apply if we no longer need to use your Personal Data to provide the Service to you, where you withdraw your consent for us to process special categories of your Personal Data, or where you object to the way we process your Personal Data. You can exercise these rights, with a proof of your identity, by simple written request sent by email to admin@FailSafeKey.com.
Cookies
We use various cookies on the Website for website analysis and improvement.
When you visit our Website, cookies may be placed on your device.
A "cookie" is a small text file placed in your browsing software to facilitate your browsing through our Websites.
Different types of cookies are placed on the Website:
| | | |
| --- | --- | --- |
| Name | Purpose | Duration |
| User Email and UserName | To allow registered users to save and access resources on the site from visit to visit | 2 years by default |
| Google Analytics (_gat, _ga, _gid) | To track traffic sources and measure trends across our website. | 2 years by default |
| Google Adsense | To provide advertisements to cover the costs of running the site | 2 years by default |
Management of Cookies
During your first visit on the Website, a banner informs you of the use of cookies on the Website and invites you to accept such cookies. The cookies will only be deposited if you continue your browsing on other web pages of the Website, register, log in, or by selecting an element of the Website (i.e. image, link, logo, search button, etc.), which will be understood as your acceptance of the use of cookies.
Please bear in mind that the removal of certain cookies is likely to change the way you access to our services.
Except for strictly necessary cookies that are required for the operation of our Website, all cookies will expire after a maximum of two years.
Changes to this Privacy Policy
We may revise this Policy from time to time. The most current version of the Policy will govern our use of your information and will always be located at https://www.FailSafeKey.com/privacy.
Effective Date of this policy: November 18, 2019